"That young child is still alive, and he has transformed himself into
the judge of the man that I have become."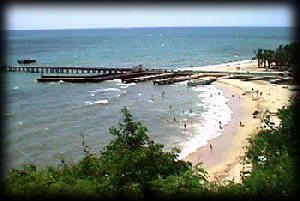 Born and raised in San Juan, Puerto Rico, Ricky Martin first revealed a love for the performing arts through school plays and choir. At the age of six, he had appeared in television commercials, becoming comfortable with the cameras, and took singing and acting lessons. Though divorced, his parents were always supportive of his ambitions. At 10, he began to dream of becoming a member of Menudo. He started auditiong for the management. Unfortunately, he was rejected twice due to his young age. He didn't give up though.

"I didn't want to be a singer. What I wanted was to be in Menudo. I wanted to give concerts, to travel, to meet pretty girls. I had been a fan of the group since it began in 1977 and I was always stubbornly determined to be one of them."

Ricky's mum talk about her pregnancy with Ricky and his birth. Go here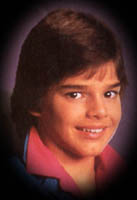 On July 10, 1984, Ricky Martin was finally accepted into the group. He was then 12 and a half years old. They had been looking for a replacement for Ricky Melendez and hadn't been quite successful. When Ricky came back for the third time, they finally decided to give him the chance. For five years Ricky Martin lived his dream, performing at music festivals and sold-out concerts on every continent. In 1989 he returned to Puerto Rico to finish high school, moving to New York after graduation to enjoy six months of well deserved tranquility!

"When I left Menudo, it was my intention to go into acting full time. I disconnected myself from the artistic world for a year, for reflection, catharsis, and maturity. It was necessary because my first five years in the business were pure adrenaline, very intense. The experience of Menudo turned out to be wonderful, it gave me more than it took out of me. It taught me what it is to be disciplined, something that I still practice today."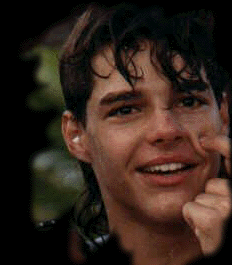 Upon finishing his brief professional interval, he decided to pursue an acting career. He got an offer to star in a Mexican musical called "Mama Ama El Rock" (Mom Loves Rock), casted into the popular Mexican daytime drama "Alcanzar una Estrella II" (To Reach a Star) in 1992, spending 8 months as Pablo, a musician singer in the band Muņecos De Papel. He also sung the theme song and due to the tremendous success of the drama, the band did an extensive tour in Mexico and the story was spinned off into a feature film. For his good performance in the film, Ricky won a Heraldo , the Mexican equivalent of an Oscar.

Concurrent with a burgeoning acting career, SONY Music decided to contract him and launch his solo singing career. They released his first solo album that same year, self titled "Ricky Martin". The album immediately sold over 500,000 copies in Latin America, becoming one of the highest debuts for a Latin artist under the Sony label in the last 10 years. Ricky then affirmed his success as a solo artist when he followed with another album, "Me Amaras" (You Will Love Me) in 1993, a more mature compilation of personal, romantic songs which also skyrocketed to the top of Latin charts. Armed with platinum sales and packed concert dates in every South American countries, he earned the "Best New Latin Artist" award at the 1993 Billboard Music Awards for that year.



More of Ricky's Life Story.....